The Mystery of Harry Potter: A Catholic Family Guide
by Nancy Carpentier Brown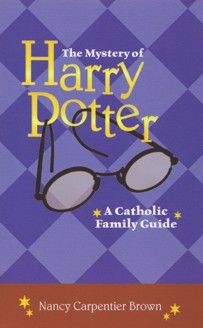 For a long time, Harry Potter and his wizard companions were banned from the Brown household. That is, until a trusted friend said she had read the books and liked them. Shocked, Nancy Brown decided to read the books herself and make up her own mind. Now the results of her research, discussion and analysis of the Harry Potter series is at your fingertips. It will answer:
* Why should anyone read Harry Potter?
* Could children learn spells from the books?
* Are the stories compatible with our Catholic Faith?
* What moral and spiritual issues are addressed?
* What kind of role model is Harry Potter?
* How will you know when your child is ready?
* How are the movies different from the books?
Using her natural teaching skills and parenting experience, Brown will help you see the stories for what they are and what they can be for you and your children. Be fully prepared as Harry and his friends struggle with life and death, friendship, love, evil, life after death, sin's hold over us, temptations and how to fight them, and so much more!
The Mystery of Harry Potter is a must-read for every family!
Nancy Carpentier Brown is a married mother of two who writes regular reviews of children's literature. She is an author, catechist, and former contributing editor for Heart & Mind magazine.
/******************************* HTML GENERATION END *******************************/ include $to_root_level.'scripts/html/body_end.php'; ?>